SFI – Easy On-line Income System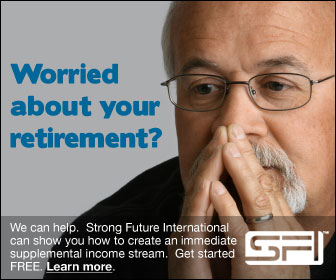 I'm guessing you haven't used your computer for much more than sending emails and playing games. OK, you possibly have a computer at work to help you do your job but have you ever thought of using your computer to make money?
The kids have left home, retirement is something that occupies your thoughts more and more, you have free time plus I know you can use more money. Being able to make money with your computer is a real opportunity not just some fly by night, over hyped scam. You're not going to make $100,000's a month like a lot of the hucksters claim but you can make a decent income with modest effort.
When you're getting started the most important factors are training and support. I'll be covering all the different ways you can make money online in other articles in this series but to get started I urge you to check out SFI.
The first thing you need to know is that it is 100% free. There are no membership fees and there's nothing to buy, plus you get lots of free training that will help you no matter what you decide to do online to make money.
I think of SFI like Amway meets eBay. It works like this – TripleClicks is a web site similar to eBay that sells their own and other peoples stuff, except that it operates in countries all over the world, in all kinds of languages. As an SFI affiliate you get paid a commission on anything that anyone you send to TripleClicks buys – for life.
The Amway part is that by recruiting a downline of affiliates you also get paid a commission on the purchases of anyone your downline sends to the site. You also get assigned a share of people that come to the SFI site on their own.
There's lots more to it of course but that's all covered on their website.
Why should I join?
If you're at all interested in finding out more about making an online income this is an excellent place to start. It costs you nothing except for some of your free time and the training resources available to you will be invaluable as you explore more profitable ways to make money online.
Can I do it?
Personally I've always liked the multi-level marketing idea but I was never any good at it. Over the years I sold (or tried to sell) everything from Amway to satellite dishes but I just don't have the personality for it. Let's face it I'm a nerd, and much happier at my keyboard than a cocktail party. Which is why SFI is so great. Your personality doesn't matter. If you're the life of the party that's great you can tell everyone you meet about the opportunity, but if you're not as outgoing or you live in a cabin in the woods (but have a kick ass Internet connection) you can still build a downline with affiliates all over the world. Yes you can do it!
What's the downside?
I really can't think of any. Most people aren't willing to put in the effort it takes to make affiliate income so this would be a good test for you. If you can't make any money with SFI you probably shouldn't spend any money trying to promote something more demanding. This is not a get rich quick scheme so don't quit your day job just yet.
Do I have to be a computer whiz?
Not at all, in fact if you only have access to an Internet Cafe computer you could probably get by without even owning one of your own. You'd miss out on many promotional opportunities but there are all kinds of traditional ways to promote something that have been around for long before the computer age.
Even if you're not interested in selling online you might want to check out TripleClicks.com just for the bargains they have available. And if you do click the link above I'll get a small commission on everything you buy from the site for life – see how easy it is.
Next Time
In the next article of this series I'll look at how you go about setting up your own website.